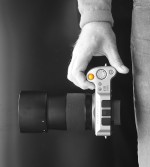 People photography is no different from other fields in that you need interesting light and well thought through compositions. Interaction between photographer and model is essential and the best results are obtained when there is a relaxed and comfortable ambience.

Technically I shoot with a medium format Hasselblad X1D and a XCD 90/3.2 with central shutter which in effect means fast exposure flash sync. Fill-in flash in broad daylight is a great tool and can shape the images to just about any style required.

A portrait session starts at € 500 (+VAT) including 2 hours on location and reduced prices on inhouse prints.