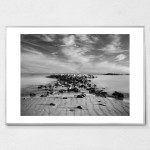 It is late afternoon and I am looking for long exposures for smooth floating water. Walking passed Guadalpin I found an inviting formation of rocks by the waterfront and here I stayed for an hour to get the shot.
I used a Heliopan ND 10 stop filter in front of a Zeiss Cfe 40 IF lens with 3 degrees of forward tilt to increase depth of field.
The Alpa Max body was used as an intermediate for the Hasselblad X1D to make the exposure.
For long exposures a sturdy tripod is essential and I use an Alpa 75 series tripod with Gon geared head. Solid as a rock, which is needed for static object to remain sharp.