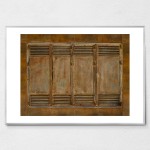 I was walking around in Sabinillas when imediately outside a hotel there was an electrician working with the wires. He was just about finished when I passed him and I glanced his way as he closed the oxidated doors, one by one.
Abstraction in an everyday object that converts into timeless piece on the wall.
Shot with an Alpa TC, Helvetar 75 and Leaf Credo 60.