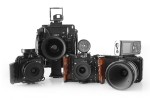 Informative product photography or profiling imagery?
Commercial photography is all about communicating a specific message.
I am used to work with art directors to create formats, crops and space for a variety of intended applications. I thrive in planning and executing image ideas for high resolution shots that can be used in magazine advertisments as well as hugh billboard prints. Final destination should not be limited to the technical quality of my files.

From controlled tabletop studio product shots to out-in-the-field profiling images are all realized with utmost dedication.
Commercial assignments are charged at the modest cost of € 120/hour (+VAT). Copyright client.